Whitney and Ray-J R&B's new Bonnie and Clyde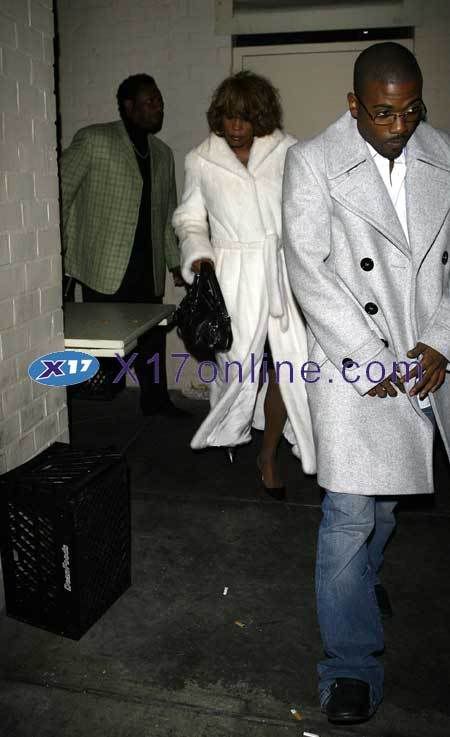 Jay-Z and Beyonce......Whatever..So what Beyonce's got a hot movie. Whitney has the Bodyguard. And Jigga, last time I checked his most recent CD didnt quite get the hood pass ,but Ray-J , Man One Wish was a fire track.
Yes my peeplz , im officially changing my HIp- Hop R &B cute couple alliance. I am now backing Whitney Houston and Brandy's lil Brutha, i mean Ray -J. When you think about it, whats not to like about them. Heres some reasons why I'm rooting for them.
1st. Whitney is on the rebound and Ray-J is to..
2ND. It can easily be assumed that Whitney is into Kinky Sex, (Hello Bobby) and who better then the guy with the current hardest to find sex tape where he allegedly is caught pissing on his female counterpart. It dont get much better then that.
3rd. Both of them share a common link. Brandy. Brandy looks up to the Diva and has called her a true inspiration on several occasions. Ray- J is Brandy's little sister.
4th. Bobbi Christina needs the firm hand in the house now that Bobby's gone.
I can go on and on. 44 is the new 33 so Whitney being with a man 25 yrs old technically only means there is a 8 yr age difference. If the age difference were the other way arond Ie (Jigga and Beyonce) there'd be high fives all around for Jay.
What this Means for Ray-J
Man put out a CD right now..I dont care if its you reading the local sports section Release the track. Everybody in the free world is going to want to interview you. Get a movie deal and whenever possible get as many photos of you and Whitney together. This is your one shot. With Big Sis the best you got was a guest role on "her" show, with Whitney, you could have your own show on the CW.
What this means for Whitney
You got a bad boy congrats..Sure, he doesnt come with all the Baby Momma Drama, nor has he ever been arrested for possesion of Crack Cocaine. But work with us Whitney, we'll show you. You see Ray was linked to Superhead, aka Karrine Stephans(hell a whole half chapter is dedicated to him) Karrrine is linked to many in the R&B, sports, and entertainment world. Some with noticably checkered past. (We dont have to tell you this hell she was Bobby's mistress.) Ray also has a steamy sex tape out there, sure to bring controversy your way. What sells better then controversy?
I cant lie Whitney and Bobby just might be the hottest celebrity couple out there. Will and Jada, take a step back. This couple is the new you...
LinkTo Story