Law and Order SVU Classic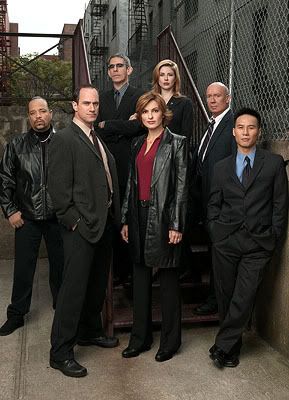 Last night was the season Finale of Law and Order SVU, and fam, im having a hard time trying to figure out if it was the best season Finale of the Year...I honsetly havent seen an episode this good and unpredictable on TV since the Wire ended..
Where to begin, Ludacris came back on the show to stand trial for the murder of the woman and child he hacked up and buried underneath a house about 7 weeks ago. Instead of trying an insanity defense like it the assumption was when we last saw him, he put the NYPD on trial and it was a brilliant strategy....All the dirt that was ever covered up on the show was exposed last night...The DUI Stablers Daughter had, Bensons Rapist Fugitive Brother, and Toutoula's undercover dirt were all exposed...A judge even had to be reclused from testimony b/c she aided in the coverup of a case ..In the end, Luda got off, and as rare as it is that Novak loses a case on the show, she did, and was immeadiatly summoned to her bosses office afterwards...
It was the first time I can honsetly say I was sittting on the couch begging for the next season to start... Classic..Scene of the night, its a toss up between when Stablers daughter was dragged from her house in handcuffs in the end, or when the Captain had to sit the Competency hearing b/c of the corrupt charges filed against his team..Both will chill you to the bone...