Carmelo's Hood Pass gets Revoked.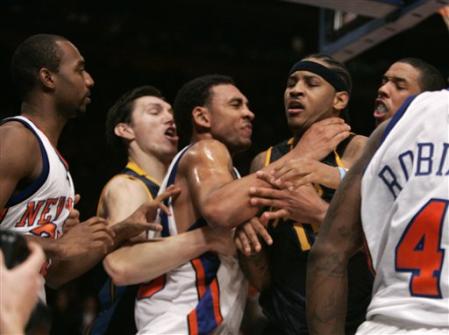 If you're like me and you thought
The Wire
was possibly the greatest finale you've seen, then Denver's Carmelo Anthony must be making you sick right now. You see, the overall since I get from watching The Wire is that Baltimore has got some real cats that will bust your head wide open ,
AND WILL NEVER EVER RUN FROM A CHALLENGE.
Well watching last nights Nuggets/Knicks Brawl, Carmelo a Baltimore native really let me down. You see, I can get with him ,stealing on Jared Jeffrey's. In a brawl, whoever gets a hit in is considered someone down for the cause. But , the hood rule is, when you steal on someone you don't run, Carmelo ran. He bitched up, he punked out, and I don't care how much hood cred he gets because he was on a video talking about how snitches get handled, overall I would have taken his girl LALA in a fight after watching his performance yesterday.
Redemption
In order for Carmelo to get his hood pass back, I'm going to have to see him thunder dunk on Amare, or bitch slap Ron Artest. He accomplishes one of the two things afore mentioned , and I can respect him again. Right now though, at this very moment, he makes me want to book a flight to B-more and walk up to the toughest cat there and step on his shoes..RP