Giving Good Sistah's Props.
I wont lie, today was gonna be a slow blog day, but seeing that I rarely give my Beautiful Nubian Sistah's who actually do GOOD props, I decided that today, i'm going to make it a new category. The way its gonna work is, each week i plan on selecting 2 sistah's who are on top there game, from a personal, profesional, and emotional standpoint
.
My boy E over at bgdboom
already gave me inspiration for my innagural sistah.
By the way when yall get a chance, show him some love and cast a vote for him at the Black weblog awards.
Good Sistah Profile #1
Alicia Keyes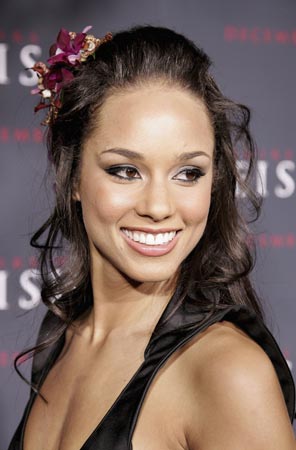 Stats


Age: 27
From: Hell's Kitchen NY.
Occupation: Singer, Song Writer, Activist
Relationship Status: From all we know Single..
Why We like her: AK not only explemifies, the best qualities a Wifey type could offer, (sweet down to earth, great personality etc.) she also has sex appeal and has one of the most beautiful faces youve ever seen. There's no question she's a 10 on anybody's scale, and I would go as far as saying if black folk had there most beautiful people list, she would consistently be a TOP-5 pick
.
Good Sistah Profile#2
Thandie Newton
Stats
Age: 35
From: London England
Occupation: Actress
Relationship Status Married w/2 Kids
Why We like her: Thandie brings a sleek sublte sexy-ness to every character she plays. Not known for being a scene stealer, but if she's in a movie odd's are her presence is felt. (Check Crash) Whats cool about Thandie is she gives you the thought that she isnt really even trying to look good, and be positive. Its like it just naturally oocurs. The simplicity of the way she seems to go about things makes her even more of a certifiable Nubian Queen if you ask me.