Open Letter To Yi from The Franchise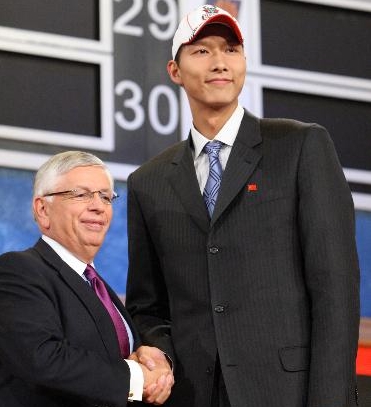 While Checking my email, someone forwarded me an encrypted email sent to Yi Jianlian..I struggled with posting it, but then I thought what the hell...
Hey YI,
Its ya boy Steve Francis aka The Franchise..Ive been in your shoes homie..Trust me. When I was drafted 2nd overall by the Vancouver Grizzlies back in 1999 man, A tear ran down my cheek. I didn't know anybody in Canada.. I didnt speak Canadian..Who knows how many Blackfolk were in Vancouver at the time let alone the Northwest? All I knew was, that place just wasn't for me. Man do what you gotta do.. Dont worry eventaully all your begging and pleading will get you traded. I literally did a back flip when i got sent to Houston. I had a smile from ear to ear. I instantly became a success, and the team slowly got built around me.
Then something happened. I looked up and the next thing I knew, we drafted another person high in the lottery, and they glossed him the next big thing as well..You may know him, Yao Ming?? Anyway that cat needed the ball all the time, and that took away from me. I tried to ask management to put guys around ME that will make ME better, but there response, trade me..
So I get traded to the Orlando Magic..Another place where I believe I can flourish with my abilities..They lose as well, and what do they go and do the following year. Draft a big man. Ownership assumes I cant work with him either, and once again I get traded.

This time to the Knicks. From day one I get off to the wrong foot there.

(not to mention that me and the guy pictured have no idea what passing the ball means

)Me and ownership fail to see eye to eye, and eventually I get packaged and traded again. This time to Portland Oregon. Which is in the Northwest, some 300 miles south of Vancouver BC.. (a 4 to 5 hr drive at most)
So you see, in the end these things are cyclical. You could request to be traded, and they could trade you..But in the end you'll end up either right back where you started, or somewhere very close..

I made a chart for you to reference.
Lets say you get traded to Golden State. High Asian population and they like to run. Well Nellie only has 3 yrs of Good Coaching left in him. He retires, along with his offensive scheme, and if your skills haven't flourished by that time, owenrships gonna want you gone. They'll trade you to a team in desperate need of a big man. Lets just throw I dunno Dallas out there. Fairly decent Asian Market, but the owner is the grand prize there. Cuban'll love you at first, but Avery, HE'LL DESPISE YOU. Nellie never taught you how to play D., thus making you useless to him. In the end, after about 2 to 3 yrs of holding Dirks Jock, you'll get packaged in a deal that will send you and someones expiring contract to New Orleans. No Asian market there. This will place you right at your 10yr mark . And b/c of the lack of interest, and the fact that your PPG's has declined youll go from hot upstart, to maybe a role player at best. By that time, a team like Cleveland is literally one piece away. Sr. Backcourt, Solid veteran who is on his last big playoff push and then theres you. Given your ability, youll be used as the guy who extends the offense beyond the 15 ft range. Essentially youll open the paint for Lebron and Boobie to drive, and thats it.

By the way Cleveland isnt known for its Asian population either . Heres the kicker, its only 430 miles away from Milwaukee..(Another 5 to 6hr drive at most.)..
Sound Familiar?

Take Care and Prosper..
Stevie
PS..Eli Manning told me to tell you to ride it out fwiw..