Who has the Keys? Who do you kill to get it?
*****The Following is a Game and Not real..If it were real, I woudlnt be posting it to a blog*****
So you wake up dazed and confused in a Dark bathroom/basement. To your left is a note that reads

"Look Down".

You instantly notice there's an Ipod placed nest to your foot so you grab it and press play on it This little fellow shows up saying:
"Hello, if youre hearing this know that youre in a room slowly filling with carbon monoxide. You have 20 Minutes to locate the keys that open the door right behind you. The keys to the way out lies within 3 of the 5 bodies laying next to you. (In an instant youre flashed a picture of an X-ray showing the key in someone's small intestine. ) (The Flash is over and his face re-appears. Should you fail to locate the key to escape the room know that I will completely fill the room with gas and kill everyone in their.
Youre playing my game b/c you say you hate these people. Well lets see if you hate them enough to save your life"
The Ipod stops and now you panic. You unveil the first person next laying next to you and notice that its Flavor Flav. Youve accused him on many occasions of selling the race short and objectifying women with his new sho Flava of Love. Do you think you hate him enough that Jigsaw has placed a key inside of him for you to dig out?
You crawl over to the corner and notice the next person is a little smaller in stature. You can tell by its frame as you draw closer that its clearly a woman, you get close enough to unmask her and its none other then Karrine Stephans AKA Superhead. She came out with a book and set women back some 20 yrs with her literally alleging that she sexed up celeb's for money and fame. Her nickname alone sickens you. Did jigsaw notice your hate for her?
As you stumble to your feet you notice a stairwell. You make your way down it and notice that there are 2 people handcuffed together. Removing the duffel's from there head you notice its Barrack Obama and Al Sharpton. This puzzles you B/c why would these 2 who are so opposite in so many way be handcuffed together. You fumble through your pockets looking for a cigarette to calm your nerves noticing that 5 minutes have already elapsed and there's
another note. It reads
"One of the guys handcuffed knows"..
Thats all its says...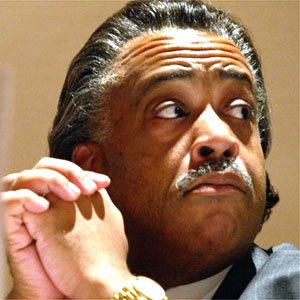 What do they know? How does it
save me ?

There's a loud banging coming from a closeted area so you make your way back up the staircase to investigate the noise and notice that its another female voice. There's a lock unhinged on the closet and you slowly cautiously open it and rolling out of the closet in a near epileptic state foaming at the mouth is none other then Secretary of State Condy Rice. After her shakes stop she then goes into a nocturnal state and rolls over on her back. There's a note attached to her saying
" Loyalty to the end."
What does this mean you wander? Could he (Jigsaw) be referring to her steadfast loyalty to W.? Could this mean that she's a clue and kill her last? What is it? You check your watch and you notice you have 10 minutes left to make a decision. Who holds the key to your exit out of this nightmare? Why did jigsaw get these people together and what is he trying to say? How do I figure out who has the key? How do I do this without killing someone?
All of a sudden there's a rumble in the room, people are beginning to gain there conscience. Do you tell them about the Ipod? Do you go into the scenario? Suddenly youre approached by Sen. Obama with Rev. Al in fold, He approaches you, and says

,
"Excuse me, where are we, whats going on?"

Tick Tock Tick Tock Tick Tock.......
Why has jigsaw brought this group of people in? Who has the keys and who leaves out alive?